21 May 2014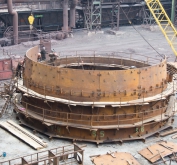 Metinvest Group will invest around 1 billion UAH in revamping of blast furnace No. 4 at PJSC "AZOVSTAL IRON & STEEL WORKS". On 15 May, the first upgrading and revamping activities were launched at the furnace.
Following revamping the blast furnace will meet the highest international environmental safety standards. Achievement of ambitious emission limit – up to 30 mg per air cubic meter – is in the planning stage. Dust emission into atmosphere will be reduced by 340 tons per annum.

Over the course of revamping activities cast house aspiration system will be dramatically changed; new bag filters with impulse regeneration will be assembled instead of the existing electrostatic precipitators. Nowadays it is the most innovative and efficient type of gas treatment units. Powerful degassing and dedusting system will be installed in the emission generation points, as well as iron runners and slag troughs will be covered. This will provide appreciable ecological effect.

The revamping will extend BF-4 operation period by 15 years more, iron melting time will be reduced and annual production in the long term will be increased up to 1.5 million tons of iron. Technological novelties will be introduced at the furnace. For instance, hearth and bottom hearth will be lined with carbon blocks with ceramic cup installation. Such structure will enhance furnace energy performance, heat losses and coke consumption will be decreased. The revamping will cover all monitor and control systems – the blast furnace will be equipped with up-to-date instrumentation and automation, process control system.

Currently preparatory activities are being conducted, in which 100 people are engaged per day. In the pink of capital repairs maintenance staff per day will be increased up to 2 thousand people. Today compressor station is being constructed, which will serve for new bag filter for gas treatment. The contractors started assembling the segments of new blast furnace stack, scrubber and demister, as well as activities at pumping and saturator stations.

Repair activities directly on iron-melting facility will be launched in June. Just then blast furnace will be shutdown.

"Metallurgy is the foundation of Mariupol, regional and Ukrainian economy. For dozens of thousands of people our operation is a guarantee of stability and prosperity. Today we are suffering a serious political crisis, severe recession in production. But crisis will be over. We will not let the grass grow under our feet till its ending and we will spend the time well. When the competitors snap at the heels, world metallurgy is on a strong track, there is only one way out is to revamp and introduce innovations. The revamping of blast furnace No. 4 is a sunrise of large scale modernization of the entire BF Shop", said Enver Tskitishvili, Director General of PJSC "AZOVSTAL IRON & STEEL WORKS".

Earlier on, during meeting attended by Mariupol community and Metinvest Group management, Yuri Ryzhenkov, CEO of the Company, told that environmental situation in Mariupol would achieve the level of the best world standards by 2020. To do so, the Group would implement environmental programs and revamp production facilities.

"Rinat Akhmetov, SCM shareholder, set a particular goal before us. We promised that Mariupol would become a foregoer for all the cities, where metallurgical production exists. By 2020 we would bring the city ecology to the advanced world standards. Metinvest Group would put the most efforts on its part", noted Yuri Ryzhenkov.
For editors:

PJSC "AZOVSTAL IRON & STEEL WORKS" is a modern high-technology enterprise manufacturing wide range of steel products: slabs, bars, shapes, railway rails, rail fasteners, square billets, plates and products of metallurgical slag.

Production capacities of the enterprise allow to produce annually over 5.5 million tons of iron, over 6.2 million tons of steel (aim is to achieve 7 million tons of steel per year) and over 4.4 million tons of rolled products. Design capacities for rail fasteners production is 285 thousand tons per year, grinding balls 170 thousand tons per year.

Metinvest is a vertically integrated mining and metallurgical group of companies that manages assets in each segment of production chain, from extraction of iron ore raw materials and coal, as well as coke production up to manufacture of steel semi-finished and finished products, pipes and coils and also manufacture of other high-value-added products. The Group incorporates mining and metallurgical enterprises located in Ukraine, Europe and USA and has sales network covering all global key markets. Metinvest Group incorporates Metallurgical and Mining Divisions. According to the strategic vision of Group it is aimed to become the leading European vertically integrated steel manufacturer with sustained growth and profitability, despite the cyclical nature of markets, and provide investment yield above the industry standards. For the first quarter of 2014 ended 31 March 2014, the Group reported revenues of US$2.9 billion and an EBITDA margin of 30%.

The key shareholders of METINVEST B.V. (Holding Company of Metinvest Group) are SCM Group (71.25%) and SMART Group (23.75%) that take part in the Group administration on a partnership basis.