22 May 2014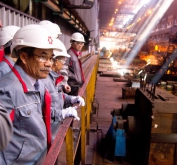 PJSC "AZOVSTAL IRON & STEEL WORKS" of Metinvest Group executes a large order – for Vietnam gas production company "Petrovietnam Gas Corporation". Mariupol enterprise will produce 48 thousand tons of rolled steel. Azovstal products shall be used for manufacturing of gas pipelines that will increase annual output of natural gas in Vietnam up to 7 billion cubic meters.
The customer has set restricted requirements regarding steel plates mechanical properties. In order to fulfill the main condition of the order, Azovstal specialists have developed special chemical composition of steel with the use of the following alloying elements: manganese, niobium, chromium, nickel and copper. Also, the method of slabs preliminary cooling before rolling was implemented. As a result, rolled products of steel grade X65M PSL2 have achieved required strength characteristics and can withstand high pressure within 470-550 MPa.
Test heats and steel plates have been already produced at BOF Shop and at Plate Mill. After metal samples compliance with the customer's requirements have been confirmed during the tests, manufacture of new type of rolled products was implemented on an industrial scale.
Regarding the significance of the project for Vietnam, Azovstal maintains continuous connection with the customer. In late April, the enterprise has arranged a visit of "Petrovietnam Gas Corporation" representatives. Excursion throughout the whole production chain of the order has been organized for the visitors – at Mechanical Testing Shop, at BOF Shop, at Plate Mill. Hence, the customers from Vietnam have personally ascertained effective organization of the technological process and enhanced control of the product quality.
General Director of PJSC "AZOVSTAL IRON & STEEL WORKS" Enver Tskitishvili:
- Nowadays, market competition is very severe. That is why every customer is very important for us. It is for the first time that we collaborate with "Petrovietnam". The fact that we have achieved partnership arrangement with them is very important for our enterprise. We will make our best to execute the order in good quality and develop our further cooperation.
For editors:

PJSC "AZOVSTAL IRON & STEEL WORKS" is a modern high-technology enterprise manufacturing wide range of steel products: slabs, bars, shapes, railway rails, rail fasteners, square billets, plates and products of metallurgical slag.

Production capacities of the enterprise allow to produce annually over 5.5 million tons of iron, over 6.2 million tons of steel (aim is to achieve 7 million tons of steel per year) and over 4.4 million tons of rolled products. Design capacities for rail fasteners production is 285 thousand tons per year, grinding balls 170 thousand tons per year.

Metinvest is a vertically integrated mining and metallurgical group of companies that manages assets in each segment of production chain, from extraction of iron ore raw materials and coal, as well as coke production up to manufacture of steel semi-finished and finished products, pipes and coils and also manufacture of other high-value-added products. The Group incorporates mining and metallurgical enterprises located in Ukraine, Europe and USA and has sales network covering all global key markets. Metinvest Group incorporates Metallurgical and Mining Divisions. According to the strategic vision of Group it is aimed to become the leading European vertically integrated steel manufacturer with sustained growth and profitability, despite the cyclical nature of markets, and provide investment yield above the industry standards. For the first nine months ended 30 September 2013, the Group received a US $ 9.8 billion in revenue, EBITDA profitability was 18%.

The key shareholders of METINVEST B.V. (Holding Company of Metinvest Group) are SCM Group (71.25%) and SMART Group (23.75%) that take part in the Group administration on a partnership basis.

"METINVEST HOLDING" LLC is the managing company of Metinvest Group.

Additional information is available at site: www.metinvestholding.com