24 June 2014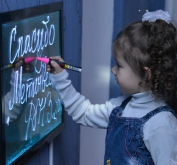 PJSC "AZOVSTAL IRON & STEEL WORKS" of Metinvest Group has assisted in modernization of the premises of Mariupol Kindergarten No.20. The enterprise has allocated around UAH 28 thousand aimed at installation of new benches, sandboxes, repair of fences and removal of trees in critical condition.
This is not the first time when the steelmakers help this institution. Last year, the project of teachers from Kindergarten No.20 won the We Improve The City Award. Metinvest Group has allocated UAH 50 thousands aimed at repair of the building and at the equipment of the unique multisensory center – the only one in Donetsk region. It will open its doors both for healthy children and children with special needs. The center provides everything required for children's proper development: kids draw in the sensor room on a daily basis, practice gymnastics in the gym, play in the mini-pool and repose in the phyto-room.
This year, the teachers have asked Mariupol steelmaking enterprises for their assistance once again. At the meeting of Director General of Metinvest Group Yuriy Ryzhenkov with the representatives of public communities of the city, Director General of PJSC "AZOVSTAL IRON & STEEL WORKS" Enver Tskitishvili promised that the enterprise will help to solve the issues faced by the kindergarten. Within a month, Azovstal employees have cleaned the territory up: disposed of rubbish and dead-wood, cut down the trees threatening with falling on the roof of the kindergarten's building, equipped roofed sandboxes, and installed benches for kids.
Headmistress of Kindergarten No.20 Tatiana Radionova:
- All our employees and kids' parents are grateful to Azovstal. We have asked the enterprises for help as early as in March at the meeting of Metinvest directors with the public representatives and literally a day after they contacted us with the promise of cooperation. Azovstal has provided us with funds and equipment with the purpose of cleaning the premises of our kindergarten. Nowadays our country is fighting hard times and not everyone wants or can help kindergartens. Meanwhile, safe and comfortable environment is required for kids' proper development. It is wonderful that Metinvest thinks of us and facilitates the establishment of such conditions for our children.

Director General of PJSC "AZOVSTAL IRON & STEEL WORKS" Enver Tskitishvili:
- Our company has been developing and strengthening social cooperation with the city for many years. We mend urban highways, repair schools and hospitals, and implement projects of social assistance for people with special needs. At present challenging times, we feel even greater responsibility before the city. When it comes to helping children, it brings us joy, that is why we have immediately answered the request for help in modernization of the Kindergarten No.20.
For editors:

PJSC "AZOVSTAL IRON & STEEL WORKS" is a modern high-technology enterprise manufacturing wide range of steel products: slabs, bars, shapes, railway rails, rail fasteners, square billets, plates and products of metallurgical slag.

Production capacities of the enterprise allow to produce annually over 5.5 million tons of iron, over 6.2 million tons of steel (aim is to achieve 7 million tons of steel per year) and over 4.4 million tons of rolled products. Design capacities for rail fasteners production is 285 thousand tons per year, grinding balls 170 thousand tons per year.

Metinvest is a vertically integrated mining and metallurgical group of companies that manages assets in each segment of production chain, from extraction of iron ore raw materials and coal, as well as coke production up to manufacture of steel semi-finished and finished products, pipes and coils and also manufacture of other high-value-added products. The Group incorporates mining and metallurgical enterprises located in Ukraine, Europe and USA and has sales network covering all global key markets. Metinvest Group incorporates Metallurgical and Mining Divisions. According to the strategic vision of Group it is aimed to become the leading European vertically integrated steel manufacturer with sustained growth and profitability, despite the cyclical nature of markets, and provide investment yield above the industry standards. For the first nine months ended 30 September 2013, the Group received a US $ 9.8 billion in revenue, EBITDA profitability was 18%.

The key shareholders of METINVEST B.V. (Holding Company of Metinvest Group) are SCM Group (71.25%) and SMART Group (23.75%) that take part in the Group administration on a partnership basis.

"METINVEST HOLDING" LLC is the managing company of Metinvest Group.

Additional information is available at site: www.metinvestholding.com