4 July 2014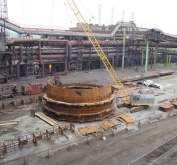 PJSC "AZOVSTAL IRON & STEEL WORKS" (Metinvest Group) launched an active stage of BF-4 revamping. Late June the furnace was stopped and cooled. The dismantling of equipment, old steel structures, lining and aspiration units was started.
Revamping of such scale is carried out at the furnace for the first time in 15 years. At the moment, in parallel with scrubber and drop catcher erection, preparation for installation of heavy-duty cranes is in progress at site. Activities on cast house dismantling are being completed. Large-sized stack panels have been already prepared for erection.

Also the construction of furnace instrumentation room, which was not available earlier at BF-4, is well under way. Thanks to sophisticated technology introduction, furnace control system will be greatly enhanced along with energy performance.

The maintenance personnel set out one of the fundamental project tasks – revamping of BF treatment units. Currently, compressor station is being constructed, which will ensure their operation. Applicable legislation establishes maximum dust content per cubic meter of clean air at the level of 50 mg, but after BF-4 blowing-in heavy-duty filters will improper this parameter by 60% – up to 30 mg – generally accepted standard in EU countries.

Within next four months cast house aspiration system will be dramatically changed: new bag filters with impulse regeneration will be assembled instead of the existing electrostatic precipitators. It is the most innovative and efficient type of gas treatment units that meets the most stringent environmental standards.

Metinvest Group invests around 1 billion USD in revamping of the blast furnace. The furnace revamping will last till November and open a prospect of furnace productivity increase from 1.1 to 1.5 mln. tons of iron per annum.

Enver Tskitishvili, Director General of PJSC "AZOVSTAL IRON & STEEL WORKS":
- The blast furnace No. 4 is the largest at "AZOVSTAL IRON & STEEL WORKS", but ecology is its choke point. When discussing the Environmental Protection and Enhancement Program for Mariupol we clearly stated that BF-4 would be fully revamped with installation of up-to-date heavy-duty filters. Nowadays, the metallurgists stick to their words despite of many problems and we are working on the city environmental improvement. This autumn BF-4 will become representative, one of the best furnaces in Ukraine in terms of ecological and economic performance. The other four blast furnaces of the enterprise are next in turn.
For editors:

PJSC "AZOVSTAL IRON & STEEL WORKS" is a modern high-technology enterprise manufacturing wide range of steel products: slabs, bars, shapes, railway rails, rail fasteners, square billets, plates and products of metallurgical slag.

Production capacities of the enterprise allow to produce annually over 5.5 million tons of iron, over 6.2 million tons of steel (aim is to achieve 7 million tons of steel per year) and over 4.4 million tons of rolled products. Design capacities for rail fasteners production is 285 thousand tons per year, grinding balls 170 thousand tons per year.

Metinvest is a vertically integrated mining and metallurgical group of companies that manages assets in each segment of production chain, from extraction of iron ore raw materials and coal, as well as coke production up to manufacture of steel semi-finished and finished products, pipes and coils and also manufacture of other high-value-added products. The Group incorporates mining and metallurgical enterprises located in Ukraine, Europe and USA and has sales network covering all global key markets. Metinvest Group incorporates Metallurgical and Mining Divisions. According to the strategic vision of Group it is aimed to become the leading European vertically integrated steel manufacturer with sustained growth and profitability, despite the cyclical nature of markets, and provide investment yield above the industry standards. For the first quarter of 2014 ended 31 March 2014, the Group reported revenues of US$2.9 billion and an EBITDA margin of 30%.

The key shareholders of METINVEST B.V. (Holding Company of Metinvest Group) are SCM Group (71.25%) and SMART Group (23.75%) that take part in the Group administration on a partnership basis.

"METINVEST HOLDING" LLC is the managing company of Metinvest Group.