4 July 2014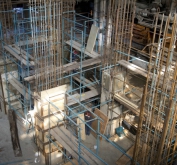 Azovstal Iron & Steel Works has proceeded to reconstruction of Turboblower No.3 (TBB-3). Metinvest Group has allocated more than UAH 200 mln for disassembly of the old facility and construction of the up-to-date unit thereon.
Reconstruction is directly connected with one of the largest environmental project of 2014 – modernization of Blast Furnace No.4. The enterprise plans to conduct complete replacement of filters and combustion gases disposal systems, and also to increase the annual output of the furnace up to 1,5 mln tons of iron.

However, implementation of this task is hampered by several factors including the lack of blowing capacity. Commissioning of the new turboblower will increase the pressure under the blast furnace top, which, in its turn, will increase BF output and reduce coke consumption.

Disassembly of the old turboblower has begun last year in September and so far all the constructions are already disassembled. Foundation plate has already been grouted, pouring of columns for the new turboblower is in process. These works will be completed before the end of July, and then the second phase of the construction will start. Three main elements of TBB-3 – steam turbine, compressor and turbine condenser- will be installed.

Director General of PJSC "AZOVSTAL IRON & STEEL WORKS" Enver Tskitishvili:
- Reconstruction of Blast Furnace No.4 and construction of the new turboblower are interconnected projects. Their task is to increase iron output at reduction of coke consumption. Nowadays, the blast for five blast furnaces is produced by eight blast apparatus but their power is not enough. Therefore, we will gradually update both blast furnaces and turboblowers. It is very important that we place a priority on environmental improvement even here. Modernization of Blast furnace No.4 will completely eliminate the problem of red fumes. After purification the air from the pipe will meet European ecological standards.
For editors:

PJSC "AZOVSTAL IRON & STEEL WORKS" is an up-to-date high-technology enterprise which produces a wide range of steel products such as: slabs, sections and shapes, rails, rail fastenings, square billets, plates, and smelter slag products.

Production capacity of the enterprise makes it possible to manufacture annually over 5,5 million tons of pig iron, over 6,2 million tons of steel (the target is to achieve 7 million tons of steel per year), over 4,4 million tons of rolled products. Design capacity of rail fastenings manufacture is 285 thousand tons per year and that of steel milling balls manufacture is 170 thousand tons per year.

Metinvest is an international vertically integrated mining-and-steelmaking group of companies, administering each sector in the production value chain beginning with iron ore and coal mining up to the manufacture of steel semi-products and finished steel products. The Group structure consists of mining and steel works situated in Ukraine, Europe, and the USA and has a chain of sales covering the key world markets. Metinvest Group incorporates Metallurgical and Mining Divisions. According to strategic vision of the Group, its goal is to become a leading European vertically-integrated steel producer with stable indicators of growth and profitability despite market cycling and to ensure investment returns overriding the industry standards. For the first quarter of 2014 ended 31 March 2014, the Group reported revenues of US$2.9 billion and an EBITDA margin of 30%.

The chief stockholders of Metinvest B.V. (Holding Company of Metinvest Group) are SKM Group (71,25%) and SMART Group (23,75%) which jointly participate in Company management as partners.

METINVEST HOLDING LLC – the managing company of Metinvest Group