24 July 2014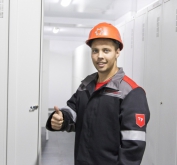 PJSC "AZOVSTAL IRON & STEEL WORKS" gained the lead as a provider of production amenities and redevelopment based on results of spring-summer certification of Metinvest Group enterprises.
Based on the results of the comprehensive audit carried out in April-May at 16 enterprises of Metinvest, Azovstal gained the best score by implementing Occupational Amenities Program – 203 points out of 220 possible ones.

The commission composed of the representatives from HR Direction, PR Direction, Direction for Occupational Health, Safety & Environment marked out the high results in financial and social criteria, i.e. specific budget development and complex implementation of Occupational Amenities Program as well as compliance with repair schedules.

Besides, the commission observed the systematic approach to repair of amenity premises, ways of targeted funds allocation, and site improvements.

The shower rooms of BOF Shop are currently well under complex repair. The contractors have already dismounted an old floor, replastered the walls, grouted the new floor, and partially replaced the masonry work. The walls and the floor were newly tiled. Interconnection of heating system, mounting of new plumbing system, lining of ceiling, installation of plastic windows, doors and separation walls as well as repair of amenity house front are awaiting. In total, 2.6 thousand of Azovstal employees will be able to appreciate such improvement of working conditions.

Director General of PJSC "AZOVSTAL IRON & STEEL WORKS" Enver Tskitishvili:
- Metallurgist is the occupation of incredible people. Only strong and charismatic professionals are able to handle the magic of steel. The personnel are Azovstal's greatest pride. That is why we endeavor to establish maximum comfortable conditions for our employees at their working places and keep improving the production amenities in general. Only this year, we have increased the costs for repairing sanitary and amenity facilities by UAH 3 million.
For editors:

PJSC «Ilyich Iron and Steel Works of Mariupol» is one of the greatest enterprises in Ukraine with full metallurgical cycle. The Works produces pipes and flat rolled products of carbon, low-alloy and alloy steels for different applications: hot-rolled plates and sheets intended for the production of pipes for main pipelines, ships, pressure vessels, bridge constructions, other metal constructions for critical application; hot-rolled plates, sheets and strips including pickled; cold-rolled, including galvanized, bands, sheets and strips, including for cold stamping, flooring and others.

METINVEST is an international vertical-integrated mining-and-metallurgical Group of companies, which runs assets in every link of production chain for creation of value from iron-ore and coal mining tol semi-finished and finished metal products manufacture. The structure of the Group comprises mining and metallurgical enterprises in Ukraine, Europe and USA, and sales network covering the key world markets. METINVEST GROUP consists of Metallurgical and Mining Divisions. According to the strategical vision of the Group its aim is to become lead European vertical-integrated steel producer with stable ratio of growth and cost effectiveness in spite of market cyclicity, and to ensure investment return higher than industrial standards. For the first quarter of 2014 ended 31 March 2014, the Group reported revenues of US$2.9 billion and an EBITDA margin of 30%.

The main shareholders of METINVEST B.V. company (Holding company of METINVEST GROUP) are SСM GROUP (71,25%) and SMART GROUP (23,75%), which control Group at partnership relations.

METINVEST HOLDING LLC is the managing company of METINVEST GROUP.