15 August 2014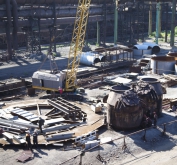 Reconstruction of Blast Furnace 4 goes on at PJSC "AZOVSTAL IRON & STEEL WORKS". For the largest investment and environmental project of 2014 to be implemented, Metinvest Group will allocate over UAH 1 billion.
Daily, there are over 650 people working on site, and during the peak moments of capital repair, the number of the employees will reach up to two thousands. Disassembly works have reached the finish line, stack body, gas washer, drop catcher and other technological units being assembled at the same time.
The repair personnel have already dismounted the structures of Casting House 2 as well as assembled and reinforced its columns. BF lining, gas cleaning and cooling system, gas washer and power equipment were fully dismounted within July.
Construction of compressor station to ensure operation of up-to-date cleaning units is going on. After its commissioning in November, the modernized blast furnace will be operated with compliance to all EU environmental standards. Powerful filters will make it possible to eradicate such notion as "red fume". As required by the applicable regulation of Ukraine, dust concentration in one cubic meter of air shall not exceed 50 mg at pipe outlet. The use of modern technologies during the reconstruction will make it possible to purify the waste air by 60% more – up to 30 mg per cubic meter.
Enver Tskitishvili, Director General of PJSC "AZOVSTAL IRON & STEEL WORKS":
- We are constructing the steelmaking enterprise of the future. Reconstruction of BF4 is the first step towards overall modernization of blast furnace production and the enterprise in general. This will specifically concern the system of environmental safety. The modernized blast furnaces will incorporate the brand new gas cleaning systems. The prospective of the following years envisages construction of the new rail and structural mill and continuous billet caster. We have proceeded with these works in parallel with reconstruction of the available production facilities and improvement of environmental factors. I believe we are now on the verge of great changes that will put Azovstal in line with worldwide leaders in steelmaking. Our goal is the up-to-date, hi-tech and energy-efficient enterprise.
For editors:

PJSC "AZOVSTAL IRON & STEEL WORKS" is an up-to-date high-technology enterprise which produces a wide range of steel products such as: slabs, sections and shapes, rails, rail fastenings, square billets, plates, and smelter slag products.
Production capacity of the enterprise makes it possible to manufacture annually over 5,5 million tons of pig iron, over 6,2 million tons of steel (the target is to achieve 7 million tons of steel per year), over 4,4 million tons of rolled products. Design capacity of rail fastenings manufacture is 285 thousand tons per year and that of steel milling balls manufacture is 170 thousand tons per year.

Metinvest is an international vertically integrated mining-and-steelmaking group of companies, administering each sector in the production value chain beginning with iron ore and coal mining up to the manufacture of steel semi-products and finished steel products. The Group structure consists of mining and steel works situated in Ukraine, Europe, and the USA and has a chain of sales covering the key world markets. Metinvest Group incorporates Metallurgical and Mining Divisions. According to strategic vision of the Group, its goal is to become a leading European vertically-integrated steel producer with stable indicators of growth and profitability despite market cycling and to ensure investment returns overriding the industry standards. In the first half of 2014 ended March 31st 2014, the Group has collected USD 2,9 billion of proceeds. EBITDA profitability has made up to 30%.

The chief stockholders of Metinvest B.V. (Holding Company of Metinvest Group) are SKM Group (71,25%) and SMART Group (23,75%) which jointly participate in Company management as partners.

METINVEST HOLDING LLC – the managing company of Metinvest Group


Additional information is available at www.metinvestholding.com