20 August 2014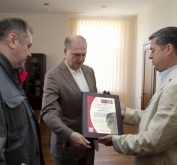 PJSC "AZOVSTAL IRON & STEEL WORKS" ("Metinvest Group") is functioning in accordance to the International Standard of Labour Protection. Such a conclusion has been made summarizing the results of the audit performed by the company "Bureau Veritas Certification Ukraine".
Experts of the certification authority confirmed compliance of industrial safety and labour protection management system at the enterprise to the International Standard OHSAS18001:2007. The experts have not revealed any substantial inconsistencies with the requirements specified in the standard. Every metallurgist has a clear understanding of the challenges that he faces. Furthermore, an effective system of risk management and personnel training has been established, and the fact above reduces the likelihood of occurrence of accidents and emergency situations.
After the verification procedure fulfilled by the Directory of labour protection and environmental issues in BOF Shop, Blooming Mill, Limekiln Shop, Fe-containing Sludge Recovery Shop and several other departments an auditors group of "Bureau Veritas Certification Ukraine" became convinced in the systematic nature of activities oriented at assurance of labour protection for the employees of the enterprise and contracting organizations. As a matter of fact, fine results are visible in the sphere of industrial injuries occurrence rate reduction.
Juriy Samorodskiy, Lead Auditor of "Bureau Veritas Certification Ukraine":
- It is a great honour for the company "Bureau Veritas" to award to PJSC "AZOVSTAL IRON & STEEL WORKS" a certificate of conformity to the requirements of Industrial Safety Management System. And it is not the first inspection for us. To be precise, our collaboration with the enterprise has advanced since 2007. And each time my colleagues and I witness quite a serious approach to organization of industrial safety system and to introduction of the best global practices. Actually, we can observe positive dynamics; moreover, we can notice development and progress for the better.
Enver Tskitishvili, Director General of PJSC "AZOVSTAL IRON & STEEL WORKS":
- Requirements to labour protection are not created to rest merely on the paper. These rules should be kept at the head. Human life and health are the most valuable factors. That is why we conduct personnel trainings on the permanent basis. All the activities should be verified, as well as all the safety procedures must be observed. Personnel training system elaborated at the enterprise already demonstrates significant results. And we are going to ameliorate it further. Gaining an international certificate in the field of labour protection stands for real recognition of our achievements in this regard.
For editors:

PJSC "AZOVSTAL IRON & STEEL WORKS" is a modern high-technology enterprise manufacturing wide range of steel products: slabs, bars, shapes, railway rails, rail fasteners, square billets, plates and products of metallurgical slag.

Production capacities of the enterprise allow to produce annually over 5.5 million tons of iron, over 6.2 million tons of steel (aim is to achieve 7 million tons of steel per year) and over 4.4 million tons of rolled products. Design capacities for rail fasteners production is 285 thousand tons per year, grinding balls 170 thousand tons per year.

Metinvest is a vertically integrated mining and metallurgical group of companies that manages assets in each segment of production chain, from extraction of iron ore raw materials and coal, as well as coke production up to manufacture of steel semi-finished and finished products, pipes and coils and also manufacture of other high-value-added products. The Group incorporates mining and metallurgical enterprises located in Ukraine, Europe and USA and has sales network covering all global key markets. Metinvest Group incorporates Metallurgical and Mining Divisions. According to the strategic vision of Group it is aimed to become the leading European vertically integrated steel manufacturer with sustained growth and profitability, despite the cyclical nature of markets, and provide investment yield above the industry standards. For the first three months of 2014 ended March 31, 2014, the Group received a US $ 2.9 billion in revenue, EBITDA profitability was 30%.

The key shareholders of METINVEST B.V. (Holding Company of Metinvest Group) are SCM Group (71.25%) and SMART Group (23.75%) that take part in the Group administration on a partnership basis.

"METINVEST HOLDING" LLC is the managing company of Metinvest Group.

Additional information is available at site: www.metinvestholding.com