30 September 2014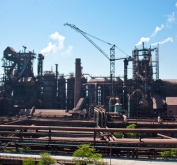 PJSC "AZOVSTAL IRON & STEEL WORKS" continues revamping of blast furnace production – capital repair of Blast Furnace No.5 has been completed. To revamp the blast furnace, the company invested around UAH 9 million.
During repair, double-bell charging device and hearth bottom cooler were replaced, equipment of hoppers, skip pit and central runner renovated, and furnace stack metal structures dismounted and replaced with new ones.
In addition, taphole gun, dust collector equipment and other furnace systems were overhauled and repaired.
Enver Tskitishvili, Director General of PJSC "AZOVSTAL IRON & STEEL WORKS":
- In the midst of military operations, Metinvest Group made tremendous efforts to keep the iron and steel works of Mariupol working. We found ourselves under most difficult conditions, with the logistics disturbed and the established coke and iron ore raw material supply chains broken. But the company managed to hold out, due to its vertical integration; not a single social or environmental project was frozen, the production revamping is also continued. The answer to the question, if we will be able to continue providing jobs to thousands of people and consistent paying of wages and taxes, depends on politicians. From the very beginning of the Donbas conflict, the steelmakers supported the viewpoint of SCM shareholder Rinat Akhmetov, who called continually to search for diplomatic ways of conflict resolution; now it is clear that he was right. We still maintain our common position: Ukraine, our region and city need a lasting peace. It is only an open round-table dialogue that can ensure the security of citizens at Donetsk and Lugansk regions, renew the disturbed infrastructure, and restore the economic growth of Ukraine.
For editors:

PJSC "AZOVSTAL IRON & STEEL WORKS" is a modern high-technology enterprise manufacturing wide range of steel products: slabs, bars, shapes, railway rails, rail fasteners, square billets, plates and products of metallurgical slag. Production capacities of the enterprise allow to produce annually over 5.5 million tons of iron, over 6.2 million tons of steel (aim is to achieve 7 million tons of steel per year) and over 4.4 million tons of rolled products. Design capacities for rail fasteners production is 285 thousand tons per year, grinding balls 170 thousand tons per year.

METINVEST is a vertically integrated mining and metallurgical group of companies that manages assets in each segment of production chain, from extraction of iron ore raw materials and coal, as well as coke production up to manufacture of steel semi-finished and finished products, pipes and coils and also manufacture of other high-value-added products. The Group incorporates mining and metallurgical enterprises located in Ukraine, Europe and USA and has sales network covering all global key markets. Metinvest Group incorporates Metallurgical and Mining Divisions. According to the strategic vision of Group it is aimed to become the leading European vertically integrated steel manufacturer with sustained growth and profitability, despite the cyclical nature of markets, and provide investment yield above the industry standards. For the first quarter of 2014 ended March, 31th, 2014, the Group reported revenues of US$2.9 billion and an EBITDA margin of 30%.

The key shareholders of METINVEST B.V. (Holding Company of Metinvest Group) are SCM Group (71.25%) and SMART Group (23.75%) that take part in the Group administration on a partnership basis.

"METINVEST HOLDING" LLC is the managing company of Metinvest Group.

For more information see www.metinvestholding.com