25 May 2015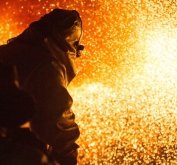 Metinvest Group's Azovstal installed a new state-of-the-art gas cleaning system as part of the $90 million modernisation of blast furnace #4. The upgraded facility will be one of the most modern and environmentally friendly production units in Ukraine. The new equipment is expected to cut dust emissions by 20%.
The plant completely upgraded the aspiration system in the cast houses of blast furnace #4 and replaced the old electric filter with a high-performance bag filter. Thanks to the new unit, the furnace's emissions will comply with planned EU emission standards of 30mg/m3. In total, more than $12.7 million in environmental equipment will be purchased for the reconstructed blast furnace.
Azovstal has also installed a high-performance flue gas and dust collector at emissions sources and reconstructed cast houses into two-level facilities with heat insulating covers to prevent the formation of "red fumes."
In addition, the plant has replaced the case, lining and cooling system at its furnaces and built a modern pump station. That project will help to increase annual pig iron output to 1.5 million tons.
About 2,000 workers were involved in the reconstruction project at its peak. In total, the reconstruction team has replaced nearly 3,200 tons of steel structures, over 4,000 tons of refractory materials and air heaters and laid about 48 km of process pipelines and 320 km of cabling and wiring products.
Yuriy Ryzhenkov, Metinvest Group CEO:
"In 2014 alone, Metinvest invested UAH 230 million into improving the environmental situation in Mariupol. Now the company is facing very challenging times, but is continuing to fulfil its obligations. We are committed to development, with our long-term goals focused not only on business. In addition to higher competitiveness and production efficiency, our even more important objective is to have a clean sky above steel plants. We are still upgrading our facilities and improving the environmental situation in cities where we operate."
Enver Tskitishvili, Azovstal general director:
"Azovstal steel workers are ready to join the European community in fact, not just in word. We are using modern technologies and can meet high standards even now. In 2014, the plant invested over UAH 157 million into environmental projects, with the reconstruction of blast furnace #4 costing $90 million."
For editors:

Azovstal Iron and Steel Works is a modern high-tech plant producing a wide range of steel products: slabs, shapes and sections, rails, rail fasteners, square billets, plates, and smelter slag products. Its production capacities allow to produce over 5.5 m tonnes of pig iron, over 6.2 m tonnes of steel (the goal is to reach 7m tonnes of steel a year), and over 4.4 m tonnes of rolled products. The designed production capacities of the plant make it possible to produce yearly up to 285,000 tonnes of rail fasteners and 170,000 tonnes of milling balls.

METINVEST is a vertically integrated mining and metallurgical group of companies that manages assets in each segment of production chain, from extraction of iron ore raw materials and coal up to manufacture of steel semi-finished and finished products. The Group includes mining and steel companies located in Ukraine, Europe and the United States, with a sales network covering all key global markets. Metinvest Group consists of metallurgical and mining divisions. Metinvest pursues a strategic vision to become the leading vertically integrated steel producer in Europe with sustainable growth and profit irrespective of economic cycles and ensure a higher return on investments than the industry average. In 2014, the Group gained $10.5bn in revenues, with its EBITDA margin making 26%.

The key shareholders of METINVEST B.V. (the holding Company of Metinvest Group) are SCM Group (71.24%) and SMART Group (23.76%) that manage the Group on a partnership basis.

METINVEST HOLDING LLC is the managing company of Metinvest Group.

For additional information, please visit www.metinvestholding.com.