25 May 2015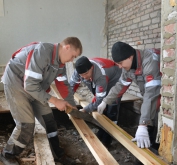 Metinvest Group's metallurgical plants in Mariupol allocated UAH 6 million for restoration work in the Vostochny microdistrict that was damaged during an artillery shelling on 24 January. Construction teams from the plant installed glass windows in about 1,500 apartments and repaired dozens of private houses. Two damaged schools and four kindergartens were repaired and recommissioned.
In February, Ilyich Iron & Steel Works of Mariupol repaired Regular Education School #57, Specialized School #5, and Kindergartens #47 and #165. Azovstal restored Kindergarten #42, which was damaged by a shock wave. By April, Ilyich Iron & Steel Works of Mariupol, Azovstal and Zaporizhstal had completed construction and repair work at Kindergarten #160, which had sustained the most damage from the attack.
About 1,000 iron and steel workers worked every day in the Vostochny microdistrict. Besides the costs to renew the damaged infrastructure, the metallurgical plants allocated about UAH 2.2 million to residents to restore their residences themselves.
The "We Help" Humanitarian Crisis Center of Rinat Akhmetov's Fund rendered a substantial amount of aid to Mariupol residents who were in need. The humanitarian organization sent medicine and provided hospitals with everything to treat victims already on the day of the attack. Volunteers from the fund also provided qualified psychological assistance to victims and their relatives.
Yuriy Ryzhenkov, Metinvest Group CEO:
"Despite our huge financial issues, our metallurgical plants gave a helping hand to all residents who suffered because of the attacks. Helping all of the victims is a principle from SCM shareholder Rinat Akhmetov. The plants mobilized their forces to restore Vostochny after the attack."
Vadim Boychenko, MMKI HR and social policy director:
"The metals workers started providing help to residents during the very first hours after the attack. We saw how extensive the damage was. Many of the plants' workers labored to do this every day. Kindergartens and schools were restored in the shortest possible time so that children and their parents could return to their normal lives again. Damaged apartments were repaired. Today we completed restoring the microdistrict: Vostochny has a new lease on life."