18 August 2015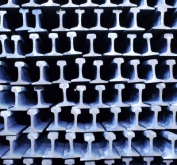 Azovstal shipped more than 4,000 tons of P50 rails for the Cuban Ministry of Transportation in 1H 2015. The Cuban customer conducted a technical audit that confirmed the quality of Metinvest Group's products. This type of rails is widely used for general and special-purpose railway track.
Metinvest Group supplied long-distance P50 rails made by Azovstal for the construction of a railway track to the port of Mariel. The development of infrastructure for the port, which is 50 km from Havana, was driven by its establishment as Cuba's first free economic zone in 2014. More than 200 km of track have been constructed from Metinvest rails in the last three years.
Broad-gauge P50 rails and P65 rails are Metinvest's most in demand products. Overall, the company manufactures more than 10 typical sizes of standard-gauge and narrow-gauge rails.
Taking into consideration the high sales efficiency of rolled steel for railway tracks, Metinvest Group is developing its product range and focusing on demand in both domestic and external markets. For example, Azovstal has begun to produce rails with tempered side edges.