25 September 2015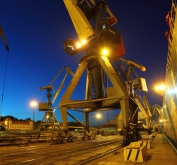 Azovstal's Rail and Structurals Mill launched the production of CR120 crane rail. This type of rail is in demand in the CIS for tracks for high capacity lifting cranes.
The major advantage of CR120 rails is its wider surfaces (head and foot) compared to the ordinary rails, which can withstand larger loads. The largest consumers of crane rails are sea ports, industrial enterprises, construction companies, etc.
CR120 rails are compliant with the DSTU 2484 and GOST 4121 standards. These standards cover five types of crane rails: CR70, CR80, CR100, CR120, and CR140. Metinvest produces CR70 and CR120 rails. The company plans to master CR80 and CR100 in the future.
The first lot of CR120 is shipped to Metinvest Group's enterprises. Next month new type of crane rails will be available for customers in Ukraine and the CIS.