2 December 2015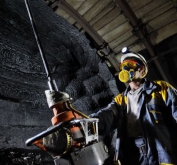 Metinvest Group will supply around 150 tons of #19 special profiles made of new 20G2AF grade steel to DTEK Pavlogradugol (Dnipropetrovsk region). This product is made by Azovstal and is used for anchoring.
To manufacture this product, Azovstal developed a manufacturing procedure to produce 20G2AF steel instead of standard St5ps steel, which was used earlier. Profiles for anchoring mine workings have been produced by the steel plant on a regular basis since 2013.
Special bent profiles produced from the new steel grade are more resistant to corrosion. By using the new steel, the steel intensity of anchorings can be reduced by up to 20% and labour intensity by 15-20%. This also allows for extended service lives and the higher re-use of anchorings.
Krasnodon Coal was the first plant to fully transition to using profiles from 20G2AF steel.
Metinvest continues to extend its range of high value-added products. Its range of 20G2AF profiles includes three sizes (special bent profiles #19, #22, and #27). The company plans to sell these products on the domestic market and is exploring the possibility of exporting them to the CIS.