9 March 2016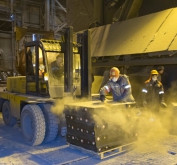 BOF vessel #1 was put back into operation at Azovstal of the Metinvest Group following the overhaul. Refractory material of Zaporozhogneupor was used to reline the vessel shell for the first time. Overhaul costs amounted to about UAH 7.7 million.
The vessel was cleaned of slag and relined within 19 days. The relining works were performed by specialists of Zaporozhogneupor.
Vertical, inclined and suspended shields of vessel #1 were also refurbished, the drive was repaired, in-house rails were laid down, and the waste heat boiler was repaired.
BOF vessel #1 approached its maintenance period with a record-high lining campaign life of 5,045 heats, which is 68% higher than the producer's warranty. This was achieved through the application of extraordinary solutions within BOF steel making technology. Using high quality refractory lining Azovstal specialists plan to set new records.
Enver Tskitishvili, general director of Azovstal:
- We enhance our cooperation with other enterprises of the Metinvest Group trying to use as less of third party services as possible. By doing so, we reduce our maintenance costs without detriment to quality. Using refractory materials from Zaporozhye Azovstal was able to save c. USD 700,000, and our new partner was able to get a reliable client during the difficult period for the Ukrainian economy.