26 April 2016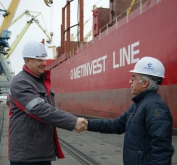 Metinvest Group has added a new Handysize vessel from the ship owner Canbaz Group (Turkey) to the fleet of its shipping lines. The bulk carrier Esra C will deliver steel products from Mariupol to ports of Marghera, Monfalcone and Ravenna in Italy.
The vessel of 30,000 tonnes deadweight was loaded to ship its first cargo- 23,500 tonnes of Azovstal's slabs - in Mariupol port on April 22.
Metinvest Group set up the shipping lines from Mariupol in late 2014. Nowadays, Metinvest's liner services cover such destinations as Bulgaria, Turkey, Italy, and Spain. The capacity of the lines was increased to 150,000 tonnes per month last year. By the end of this year, the fleet of Metinvest's shipping lines will include 12 vessels, three of which are owned by Canbaz Group. New destinations of the liner services include the Middle East and North Africa, and the United States of America.
Enver Tskitishvili, general director of Azovstal:
- Liner shipping will help reduce lead times and transportation costs for our key customers in external markets, which is no less important than the quality of our products in current environment.
Andrey Smirnov, Metinvest Group's head of seaborne shipments:
- Developing liner shipping helps avoid fleet shortages and speculatively high freight rates during the grain season and ensure continuous shipping of steel products during the ice navigation season.
Obahan Canbaz, director ofCanbaz Group :
- I am optimistic about the prospects of Ukraine's market and willing to further develop cooperation with Metinvest Group. Liner shipping allows for better planning of the fleet load, optimisation of voyage costs and, hence, the lowest possible freight rates to ship products.