31 August 2016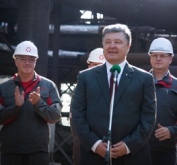 The President of Ukraine, Petro Poroshenko visited Metinvest Group's Azovstal I&SW in the course of his visit to Mariupol. At the enterprise, Mr. Poroshenko visited Blast Furnace No. 4, which is one of the most modern and environmentally friendly furnaces in Ukraine. Blast Furnace No. 4 has been commissioned recently following its major overhaul. Metinvest Group's investment in reconstruction of Blast Furnace No. 4 comprised $90 million. In the course of the President's visit to the plant, he was accompanied by Yuriy Ryzhenkov, Chief Executive Officer of Metinvest Group, Enver Tskitishvili, General Director Azovstal and Yuriy Zinchenko, General Director of Ilyich Iron and Steel Works of Mariupol (MMKI).
The head of state met with the metallurgists and noted significant contribution of Metinvest to modernization of Ukrainian industry. Petro Poroshenko stated that the volume of investment channelled currently to mining and metals sector, "guarantees us increase of export, increase of the budget, stronger national currency and improved living standards of Ukrainians – this is what the leadership of the state should be working for".
In the process of the major overhaul, Blast Furnace No. 4 was actually rebuilt from the ground. The shell was replaced, and the refractory lining was installed along with new cooling system. A modern pump-and-accumulator station was built. Blast Furnace No. 4 is equipped with a computerized control system, modern control and measuring instruments, sensors and automation.
The launch of the Blast Furnace following the modernization will enable cheaper production process, and coke consumption reduced by 15% by using more efficient technologies. This will make Azovstal's products more competitive in the international markets. The President promised support to the metallurgists: "We will continue doing our best to ensure more intensive supply of raw and other materials, so that the revenues are higher, and the higher are salaries."
Modern air purification equipment worth $12.7 million was installed in the process of the blast furnace reconstruction. New cast house aspiration system together with high capacity bag filter allows removing up to 99% of dust and eliminate the emissions of brown smoke, which corresponds to European environmental standards.
Petro Poroshenko, the President of Ukraine:
"Ukrainian flag will wave over liberated Donbass – Donetsk and Luhansk. This is my dream. And after meeting you, and by visiting new, efficient, modernized, more productive, most ecological, and the most cost-efficient Blast Furnace, I am now confident in that. This is our common symbol of victory. For me, success-stories of Ukrainian investment potential are extremely important, and your enterprise is one of the best cases."
Yuriy Ryzhenkov, Chief Executive Officer of Metinvest Group:
"We have demonstrated the pride of Metinvest Group to the President of Ukraine: overhauled and modernized Blast Furnace No. 4 at Azovstal that has just been commissioned and put into productive operation. Both us, and the leadership of the state are interested in Ukrainian industry to implement as many of such projects as possible. These projects mean new jobs, foreign currency revenues of the country, and improved environmental situation. In order to achieve this goal, public-private partnership is required, and the visit of the President to Azovstal is one of important steps on this way."