16 September 2016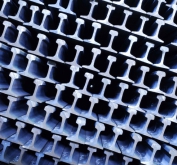 Azovstal Iron and Steel Works of Metinvest Group has launched the production of KP100 type crane rails. The products will meet the requirements of standards DSTU 2484 and GOST 4121 and will be used for the construction of overhead crane rail tracks.
The largest consumers of KP1-00 crane rails include sea ports, industrial enterprises and construction companies. As compared to other types of rails, these are produced from high-strength steel and can resist high loads.
The first 130 tons of the new product were shipped to domestic market and neighbouring countries in September. Crane rails of KP100 type are planned to be sold in Ukraine and the CIS. The sales of this product are expected to make 1.5 thousand tons per year.
Azovstal already has the most demanded KP70 and KP120 crane rails in its portfolio, planning to start the production of one more type - KP80 - in the first quarter of 2017. This will make Azovstal represented in the largest segment of the crane rail market in the CIS.