27 October 2016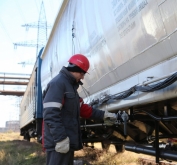 The first pulverized coal tank rail car arrived to Azovstal Iron and Steel Works for the running tests. In parallel, the plant is completing its pulverized coal injection (PCI) plant construction to feed the PCI fuel to Blast Furnace No. 4. Metinvest Group's investment into the large-scale energy saving project comprise over USD 17 million.
Kryukov Railway Car Building Works delivered the leak tight tank for PCI fuel transportation from Ilyich Iron and Steel Works of Mariupol (MMKI) to Azovstal. The tank capacity is 100 cubic meters to allow transporting 50 tonnes of pulverized coal. Special body design will allow pneumatic unloading of the fuel leaving the tank virtually clean. The unit cost of the tank is approximately UAH 1 million. 12 tanks will be engaged to deliver PCI fuel to Blast Furnace No. 4. MMKI will produce pulverized coal fuel for Azovstal.
37 tonnes of PCI fuel were loaded to the tank in order to perform the running tests. Azovstal specialists are using special sensors and gauges to check riding quality of the tank, oscillating motions, and rail car inclination in the course of shunting operations.
Steel structure installation, set up of transport lanes, nitrogen receiver, construction of pump-house and firefighting water body have been completed at the construction site. The specialists completed installation of a number of utility lines, which will be followed by start-up and commissioning operations. Site dumping and asphalting is in progress along with the arrangement of the transportation trestle with roads and pavements. Special loading and unloading railway stations were built for the PCI fuel transportation with throughput capacity of 2,000 tonnes per day each. German Küttner delivered the equipment for the project.
Engineering and technical staff that will be engaged at the PCI plant attended Küttner's training in Trier (Germany). Further communication with international colleagues will be happening in the format of video conferencing.
Aleksandr Pogozhev, Chief Operations Officer of Metinvest Group:
"With the launch of the PCI plant at Azovstal we are completing the long-term project aimed at substitution of more expensive natural gas in blast furnace process with much less costly coal fuel. In the nearest future, all blast furnaces at Ukrainian Assets of Metinvest will run on PCI fuel."
Enver Tskitishvili, Azovstal General Director:
"Annual natural gas saving just on Blast Furnace No. 4 alone will be 30 million cubic meters. At that, our energy saving project is compliant with all environmental standards. Modern Küttner technology eliminates the possibility of coal dust leaking to the environment. We have created a closed cycle of fuel circulation: from the transportation of PCI fuel from MMKI production site to pulverized coal injection into the blast furnace at Azovstal."