2 June 2017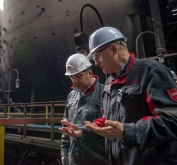 Prime Minister of Ukraine Volodymyr Groisman attended Azovstal Iron and Steel Works on 1 June. During his visit, the head of the government had a look at blast furnace No.4, the most innovative and environmentally friendly smelting facility in Ukraine. Enver Tskitishvili, Azovstal CEO, and Yuri Zinchenko, Illich Iron and Steel Works CEO, have presented an environmental upgrade programme for sintering and steelmaking facilities. Metinvest Group is set to allocate about $318 million to environmental projects in Mariupol within the next five years.
The large-scale investment programme will help considerably improve the environmental wellbeing of Mariupol by 2022. The upgrade efforts will be focused on the sinter plant at Illich Iron and Steel Works and gas purification facilities in blast-furnace and converter shops at both steelworks.
Volodymyr Groisman could also watch the operation of a state-of-the-art aspiration system installed in casting beds at Blast Furnace 4. The facility catches up to 99% of dust, helping the works meet European emission standards. The $90m reconstruction of the facility fully prevents red fumes.
In the nearest time, Azovstal will commission a pulverised coal injection unit at Blast Furnace No. 4. With replacement of natural gas with pulverised coal, the new technology will help boost the blast furnace's performance by 20% and cut cast iron production costs. This project is another step to full conversion of the blast furnace processes to the pulverised coal. Potentially, the technology can save about 30 million cubic meters of gas at Blast Furnace No.4 alone.
Ukrainian PM also met Azovstal's employees to tell them about a draft pension reform and government's plans to raise living standards in the country. Enver Tskitishvili and Yuriy Zinchenko thanked Volodymyr Groisman for the support in efforts to resume Komysh-Zoria — Volnovakha railway section operation and discussed the current severe shortage of raw materials caused by the instability of railway services. CEOs stressed that Metinvest kept on increasing its investments in production and social protection of employees despite real challenges. Since 1 June 2017, the company has increased salaries by 20% across all businesses of the group.
Ukrainian Prime Minister Volodymyr Groisman:
"I'm pleased that your company has made the decision to raise salaries by 20% from today. This is a good step in the right direction. At last we should bring Ukrainians back to Ukraine. We should bring them back, but slogans "Come Back!" alone will not help. We should offer good jobs and good salaries."
Azovstal CEO Enver Tskitishvili:
"Today Mariupol-based steel plants suffer a severe shortage of freight trains to receive raw materials and ship finished products. The situation results in the capacity reduction and downtime. Therefore, it's vital for us to boost the capacity of Komysh-Zoria — Volnovakha railway section from today's 17-18 pairs of trains to 26 pairs a day. We hope that Ukrzaliznytsia's statements about significant increase in the section capacity will soon be put into practice."
Illich Iron & Steel Works CEO Yuriy Zinchenko:
"Despite the crisis in the industry and big problems with rail supplies of raw materials, Metinvest is making unprecedented investments in the production upgrade and environmental protection. In particular, the reconstruction of the gas purification system at Europe's largest sinter plant at Illich Iron and Steel Works knows no equals in Ukraine. We will invest $220 million in this project alone to cut dust emissions elevenfolds by 2020."