26 February 2018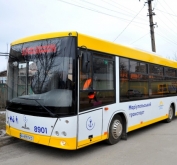 Jointly with local authorities and Mariupol Development Fund, Azovstal Iron and Steel Works of Metinvest Group delivers projects for the development of the municipal transport system. On February 22, nine new MAZ buses purchased by the city were set on their first journey. Due to financial assistance of Azovstal, the buses were also equipped with a GPS navigation system and software allowing for dispatch control and helping people know when the bus is coming. The city mayor Vadim Boichenko and MP of Ukraine Oleg Lyashko were the first passengers of new MAZ buses.
Before this, the steel works and Mariupol Development Fund allocated UAH 1.5 million for the purchase of 170 GPS trackers for public municipal transport and buses operated by private companies along with software that is used for planning and dispatch control of Mariupol public transport. The software was installed in the new dispatch control centre. GPS navigation systems were installed on refurbished trams (manufactured in Prague) and on 15 new buses that began to transport the city residents in February last year.
GPS is used to record the movement of transport and visualize it on city maps, thus helping residents get information about vehicle location on their mobile apps or see it on electronic displays of the new-type bus stops.

MP of Ukraine Oleg Lyashko:
The launch of a new traffic route is an outstanding event for Mariupol. This means 100 working places, respectable salary, modern buses and comfort for people. There are still plenty of urgent issues, but it is impossible to solve all the problems in a moment. What is important - is to be willing to do this. When we say Mariupol is Ukraine it is important for the city to be connected to Ukraine by a million of threads. This involves investments, caring for people, working places. We want our people to work in Ukraine and not look for a better life abroad.
Vadym Boychenko, Mariupol City Mayor:
We keep on implementing the transport strategy of Mariupol. Cooperation with donors gives us a better result and changes the face of our native city for the better. We install new bus-stop pavilions and electronic displays with public transport schedule, we also update the rolling stock - comfortable trams, trolleybuses, buses are on the streets of the city. Municipal transport goes to a new level.