24 September 2018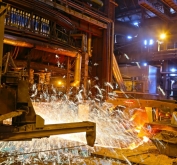 Azovstal Iron and Steel Works of Metinvest Group is set to invest almost UAH 0.5 billion in the upgrade of environmental protection and cooling systems at blast furnace No.4. The plant is switching stepwise to the closed loop water recycling system at blast furnaces.
In 2014-2016, BF No.4 saw a UAH 2bn reconstruction: the plant built two-tier roofed cast houses with the state-of-the-art fume extraction and recycling facilities. Azovstal continues the BF upgrade to boost its environmental friendliness and energy efficiency.
The overhaul will replace the furnace's refractory lining and build a new cooling system and chemical water treatment facilities. Replacement of cast-iron thermal protection elements (cooling plates) with copper ones and a new evaporation system will enable the plant to switch to water recycling. In this way, Azovstal will stop using sea water for cooling purposes.
The overhaul will make the blast furnace more environmentally friendly. A seal valve of the charger will be replaced to improve the gas-leak tightness and prevent fugitive dust emissions. The plant is going to overhaul the aspiration system of the stock house, clean duct works and install new cyclones.
BF No.4 will be shut down on 23 September. As soon as hot metal and slag are tapped, water will be fed into the furnace for cooling. All aspiration and gas cleaning systems will continue to operate to reduce possible smoke emissions. At the same time, active steaming inside the furnace can temporarily amplify the noise in the city on 24 September.
Azovstal CEO Enver Tskitishvili:

"Because of seasonal deterioration of conditions for emission dispersion, the plant has adjusted its repair schedule for the autumn. Only three of the five blast furnaces and one of the two basic oxygen furnaces will remain in operation next week. Today we continue the environmental upgrade of BF No.3. Also, we are setting the stage for building a new gas cleaning facility in 2019 in one of the units of the converter shop, which is a year earlier than planned. We fully comply with the terms of the municipal environmental programme and try to accelerate the pace as much as we can where possible. When the weather is unfavourable, we reduce output and shut down equipment for repair to reduce the environmental footprint."