28 December 2018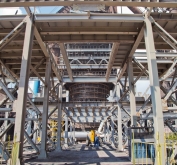 The Metinvest Group's investments in upgrading of metallurgical enterprises of Mariupol amounted to UAH 12.5 billion in 2018. The main projects were the construction of new Continuous Casting Machine No.4 and the development of basic engineering for the reconstruction of 1700 Hot Strip Mill at Ilyich Iron and Steel Works of Mariupol, as well as the large-scale reconstruction of Blast Furnace No.3 at Azovstal Iron and Steel Works.
The project for the construction of modern Continuous Casting Machine at Ilyich Iron and Steel Works of Mariupol is at the final stage of implementation. At the end of December, the Plant started hot testing of the facility. CCM No.4 is a unique facility in Ukraine and is designed subject to the state-of-the-art technologies in compliance with European environmental standards. The Metinvest Group invested UAH 4 billion into the project.
New equipment enables the enterprise to produce 2.5 million tons of 170-250х900-1550 mm slabs annually. The facility incorporates the secondary metallurgy unit, which allows the production of almost any steel grade. The machine's flexibility has a wide range. The major volume of semi-finished products is planned to be re-rolled in 1700 Hot Strip Mill, which was upgraded by the Company in 2018 at the cost over UAH 2.4 billion. Projects are implemented with the support of Primetals Technologies, the Company's partners from Austria.
The reconstruction of Blast Furnace No.3 at Azovstal Iron and Steel Works is in progress. The project cost is UAH 2.5 billion. The furnace shell is 100% assembled. Specialists have assembled the hot blast bustle main and put it to the design position. Lining works are in progress. The construction of the dedusting system is in the active phase. New gas cleaning scrubber has been installed. The next stage involves the repair of steel structures and platforms of stoves and runners of the casthouse. After the reconstruction, the third Blast Furnace at Azovstal Iron and Steel Works, along with the fourth one, will be among the most environmentally friendly and modern facilities in Ukraine and Europe.
Yuriy Ryzhenkov, Chief Executive Officer of Metinvest Group:
- This year, the amount of more than UAH 12 billion has been invested in the development of iron and steel works. These are real investments, real money, which show that we care about the city. Mariupol has a future, enterprises have a future, and we are ready to invest in them even in the current difficult conditions.