12 March 2019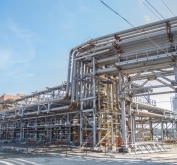 Azovstal Iron and Steel Works of Metinvest Group continues the construction of pump station of chemically treated recirculated water for cooling of the blast furnace No.3. This is a part of a large-scale reconstruction of the furnace. After commissioning of the station, the blast furnace will be cooled down without sea water, and that will make the industrial process more environmentally friendly.
The construction of the pump station has started in November 2018. There were erected steel structures, water lines and special structure facilities within these four months. More than 13 800 km of pipe lines with the diameter from 300 mm to 426 mm were routed. Among them 23 water lines to and from the blast furnace. The total weight of the erected steel structures is about 370 tons.
The construction of the station is at the final stage: 85 % of the work is finished. About 150 specialists from contractor organisations are working at the site every day. The installation of the modern equipment produced by foreign and Ukrainian manufacturers is almost completed, i.e. three groups of pump units for water pumping. Water for the pump station will undergo chemical treatment process at the water supply shop and go along a single cooling cycle. Capacity of the new pump station is more than 6 thousand cubic meters of water per hour.
Enver Tskitishvili, general director of Azovstal:
Prior to the reconstruction, the blast furnace No.3 was cooled down with sea water. After the refurbished furnace and pump station are put into operation, we will not use sea water anymore and switch to reirculative closed water cooling. In the future, we plan to switch other furnaces to this recirculative cycle as well. This project will help to reduce industrial load on the environment and improve environmental situation in Mariupol.