5 June 2019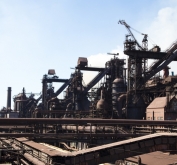 Metinvest Group's Azovstal started a complete shut down of Blast Furnace No. 5 (BF No. 5). The equipment will be taken out of operation pursuant to the developed technological activities. Once it has been cooled down, the BF structures will be dismantled.
This technological process includes the furnace blowing out with the lowering of the charge layer and the release of air and steam through the pipelines. After its shut down, the furnace will be dismantled, the emission of dust and gases will be completely stopped, which will significantly reduce impact on environment in Mariupol.
Safety is ensured both for employees involved in the blowing out and those outside the furnace. The area is guarded by gas rescuers with personal gas analyzers, which measure the CO concentration in the air in the online mode.
Hot metal production will be transferred to Blast Furnace No.3, whose revamp is close to completion. Following the reconstruction of the dedusting system and introduction of a closed furnace cooling circuit, the emissions will be reduced by 64%. Investments in the upgrade of the equipment totalled over USD 145 million. The new equipment will make BF No. 3 one of the most environmentally friendly facilities in Ukraine. The enterprise also plans a major overhaul of Blast Furnace No. 6, which will improve its efficiency, decrease the cost of production, and reduce dust emissions by 55%.
Employees operating this equipment will not be laid-off. Employees will be offered vacant positions in the blast furnace shop and other units of the plant with a possibility of acquiring additional training and maintaining average earnings during the training period.
According to Enver Tskitishvili, General Director of Azovstal, the decision to decommission the blast furnace was made pursuant to Metinvest Group's Technological Strategy-2030. He noted that the Company recognized that the existing capacity configuration needs not only an upgrade, but also a revamp in order to match the industry development. Modern and environmentally friendly Blast Furnace No. 3 will soon be commissioned to substitute the old blast furnace.