25 July 2019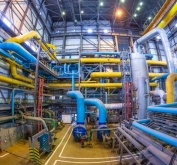 Metinvest Group's Azovstal Iron and Steel Works (Azovstal I&SW) is carrying out a scheduled modernization of equipment at its Basic Oxygen Furnace Shop. This year, the investment comprised approximately UAH 30 million.
Currently, Air Separation Unit (ASU-60) has been commissioned, and the air compressor overhaul is about to complete. The plant's specialists are starting to upgrade the nitrogen turbine compressor.
The activities carried out at ASU-60 in June allowed restoring the equipment performance to its design capacity of 40,000 m³ of high-pressure oxygen per hour and 20,000 m³ of low-pressure oxygen per hour. As a result, the Air Separation Unit can now provide oxygen to Basic Oxygen Furnace Shop and Blast Furnace Shop of the steel mill.
ASU-60's booster compressor, cryogenic pumps and shut off valves were repaired, piping was replaced, and heat exchange equipment was inspected and cleaned. The automation system and electrical equipment were inspected and cleaned.
Scheduled overhauls are executed on an annual basis. The need of Air Separation Unit upgrade arises due to clogging of heat exchange equipment thus causing deteriorated capacity of the unit by 5,000-10,000 m³ per hour.
Major overhaul of nitrogen turbine compressor KTK 12,5/35 No. 1 and completion of the major overhaul of air compressor EK-1500 No. 9 are planned for July.
"We perform scheduled repairs and modernization of equipment. This ensures continuous and stable operation of the enterprise and, which is crucial prevent any emergency breakdowns and provide safe working conditions for employees", – noted Enver Tskytishvily, General Director of Azovstal I&SW.