6 August 2019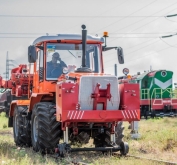 Metinvest Group invested UAH 4.6 million in upgrading special equipment of Rolling Stock Repair Shop at Azovstal Iron and Steel Works (Azovstal I&SW).
A multi-purpose railway machine with extended capabilities and characteristics was purchased. Its task is to straighten and tamp rail track to prevent emergency breakdowns: unwanted uncoupling, tilting and derailing of rolling stock.
New special machinery consists of two parts: combined pneumatic rail traveling tractor ХТА-220-1 and straightening and tamping unit with remote control. The operator`s cabin is equipped with a comfortable shock absorbing chair, climate control system and a panoramic view.
The new machine can lift 6 meters of rails with sleepers at a time and place on the ballast. The operator controls every operation. If it is needed to move the machine another several meters to the next road section, the operator can do it without returning to cabin, just with a turn of joystick. The operator does not need any "hints" from an assistant controlling the process from a side, as it was before.
"Azovstal's railway tracks are more than 300 km in total length. The new machinery suits best for regular maintenance and repair of them. Metinvest Group invests actively in equipment and modernization of its assets. We put every possible effort to replace manual labour with modern and automated machinery. This contributes to improved performance and safety of our employees. Modern equipment brings the quality of workplaces to a new level," – said Enver Tskytishvily, General Director of Azovstal I&SW.