23 August 2019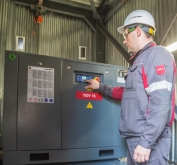 Metinvest Group's Azovstal Iron and Steel Works completed the reconstruction of the dedusting system in the crushing department of the bulk and ferro-alloys area of the BOF Shop. Lamellen – Jet-cleaning equipment was installed. Commissioning is in progress. The project investments are UAH 8.1 million.
The reconstruction was launched in 2017. The old dedusting unit was dismantled and the material supply system was changed in order to enable the installation of the new cleaning facilities. Compressor house and a new control room the air supply to the filter were built. Lamellen - Jet supplied a new bag filter with regeneration. Its capacity is 11,000 cubic m/hour.
The commissioning works are about to complete. The results of measurements of the new dedusting system in operation confirm that the purification efficiency meets the best European practices.
Enver Tskitishvili, General Director of Azovstal:
"It was crucial for us to significantly reduce dust emissions into the atmosphere. Therefore, we chose the most effective and modern equipment. In addition, in order to fulfill environmental obligations to city residents and not to shut down the BOF shop for the reconstruction period, we purchased already crushed materials at a cost 20% higher than if we had prepared them on site. The greening of metallurgical production is a challenge. We are making confident steps towards a clean and modern metallurgical production process."