17 November 2011 // Press centre PJSC "AZOVSTAL IRON AND STEEL WORKS"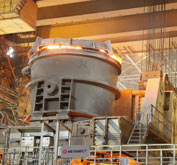 System-based work on delays reduction and prevention is an important aspect of efficient organization of production. This work was continuously conducted at PJSC "AZOVSTAL IRON AND STEEL WORKS" before, and with implementation of the automated tracking system it has come to a new, high-quality level.
By implementing the automated tracking system, they set a mission to reduce delays number and duration at the plant, as much as possible. A multi-level delays tracking system is presently in operation at "Azovstal". At level one, they are detected by means of special sensors mounted on main production equipment, then the data are transferred to the controller and thence – to the PC. Reasons for delays and their entry to the electronic database are carried out by specialists in charge of maintenance of any given equipment. The next phase is to study the case with the participation of the line manager, foreman, shift man. After being confirmed by the chief of the shop, the data are forwarded to the works dispatcher.
All info on delays is placed at the server and every employee having access to it can get timely information regarding the current situation, obtain data to analyze equipment operation over certain period of time. Owing to the delays automated tracking system, it is possible to determine root causes leading to underproduction and rejects generation, process bottlenecks are revealed which require their refurbishment.
All production departments are currently covered by the system – coke-chemical plant, sintering shop, the blast furnace shop, reduction and oxygen shops, BOF shop, rail and structural steel mill, limekiln shop, thermal power plant, steam and air blowing station – and it already proves to be efficient. For instance, reduction ratio of the BOF shop off-schedule delays over first 10 days of November versus the same period in October amounted to 8,5%, or 20 hours 21 min. The same period showed decrease of process delays duration in the blast furnace shop amounting to 2 hours 53 min. Positive effect is notable in rail and structural steel mill as well. Due to "800" mill delays reduction by 3% (10 hours 50 min), additional 450 tons of finished products were obtained as a result of production growth. Reduction at "650" mill of the same shop made 4% which resulted in production grown by 1170 tons.
"The issue of equipment delays tracking is one of the essential issues in the process control and concerns every employee since it is directly connected with success of the company and our prosperity", the works general director Enver Tskitishvili says. "Every unnormalized delay means loss of production, rise of cost value and loss of commercial products sales profit».