22 July 2016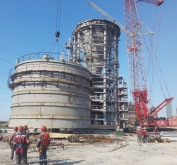 Azovstal Iron and Steel Works plans to complete the construction of pulverized coal injection plant (PCI) by the end of this year and phase out natural gas for ironmaking. Pre-assembly of PCI steel structures is currently in progress.
Metinvest Engineering, LLC acts as the General Contractor and the General Designer in this project. The construction involves specialist subcontractors. Erection works are carried out by Metinvest PromService. All steel structures required for construction are fabricated from Metinvest Group's products.
On 16 July, erection specialists completed one of the most important phases of construction, i.e. a taper part of the pulverized coal storage silo was installed. Erection was carried out by a crane with a lifting capacity of 400 tons at the height of 32 meters. All installed structural members were 152 tons in weight and 15 meters in height.
PCI plant was designed according to the European state-of-the-art environmental and occupational safety standards. A closed loop of fuel circulation and PCI plant sealing capacity underpinned the project technical solution. A high capacity bag house supplied by Küttner will provide additional protection against dust emission to the atmosphere.
Pulverized coal will be produced at Ilyich Iron and Steel Works of Mariupol and transported to Azovstal Iron and Steel Works in sealed railway tanks with inert gas. Pulverized coal will be injected into the blast furnace along with nitrogen to avoid any spontaneous combustion of coal.
Enver Tskitishvili, general director of Azovstal:
"Metinvest Group continues to implement large-scale investment projects at Azovstal. The PCI plant construction is the most effective way to make products more cost attractive and increase the competitive edge of the Steelworks. We use the best available practices and standards in this project. To that end, we involved the world leading manufacturer of metallurgical equipment from Germany. Our partners from Küttner guarantee that PCI plant will operate in the most efficient manner and be environmentally friendly."
Metinvest Group invested more than $17 million into the construction of PCI plant at Azovstal Iron and Steel Works. In future, the PCI plant will help not only turn away from natural gas (saving of 30 million cubic meters per year per blast furnace), but reduce coke consumption. The project implementation started in March 2016.